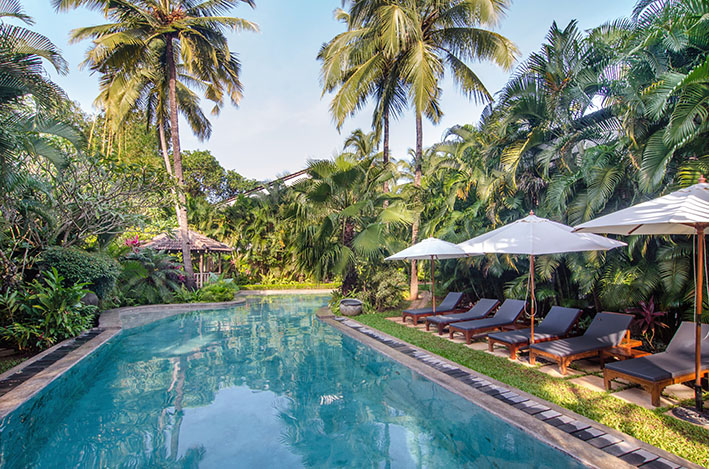 Clear Waters
4th January 2017
---
A luxury hotel experience is often synonymous with a large swimming pool. But, how often does one come across a swimming pool without blue tiles or chlorine? We're pretty sure that is a rare feat. And we, at Coco Shambhala, are proud to have achieved it!
Our swimming pool is set in the very midst of the property, surrounded by the villas and a jungle style garden. The pool design is unique in shape, with large steps leading into the pool from various nooks in the garden, with the deep end in immediate proximity of the sunbeds.
Each villa has a small pathway leading up to the swimming pool and a common gazebo of bamboo furniture for a quiet sit-out spot.
The natural grey cement finish blends with the jungle style gardens for the ultimate tropical swimming experience. This natural finish means we can not cheat; the clear blue waters can only be achieved through the quality of the water! To achieve this, we do not use chemicals (such as, chlorine) to clean the water. Our pool water is sourced from a natural well, and goes through a triple filtration system. The ph balance is perfect!
An added bonus is that one does not need to shower after a dip in the pool, to rid the body of chemicals! The swimming pool is also safe for small children and young adults, with a variety of floats provided for their safety.