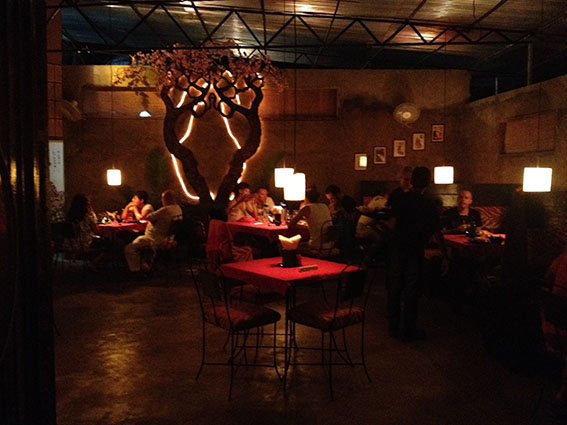 Sake at Sakana
21st December 2016
---
Even in Goa, there can be nights when one tires of partying out. For such nights, we recommend diving into the world of authentic Japanese cuisine at Sakana!
Sakana is located on the main Chapora road in Anjuna. A lovely, short drive from Coco Shambhala, one drives past beautiful paddy fields and if you roll the windows down, you can breathe in the cool sea breeze rushing past.
On arrival, one is greeted by the open air vista and dark teak wood design complimented by deep red upholstery and a cherry blossom tree in the centre! The owner, Mari, made the paper cherry blossom flowers to remind herself of springtime in Japan, and they are a very lovely addition to the basic décor of the place.
A number of online reviews commend their sushi, we'd like to go ahead and recommend their sake too! Served in beautiful white and blue ceramic shot glasses, sake can be a heady drink and it is best consumed cold in the tropical climate of Goa.
For starters, the Sakana red snapper sashimi is an absolute delight. The fine slices of fish and a perfect sauce make this an ideal pairing with sake! Sakana stocks its own fish, brought all the way from Japan and prepared just before an order, to ensure the freshness! They also have a dry Japanese beer— Asahi, in-house, which is a wonderful compliment to the food.
Our top pick at Sakana is the king fish teriyaki and the tofu teriyaki (for vegetarians), served with a bowl of sticky rice and hot miso soup. This is a wholesome meal for two, with a variety of flavours, be it the savoury teriyaki sauce or the heady wasabi in the miso soup.
One can wash down the meal with green tea or green tea flavoured ice cream!
The staff at Sakana is helpful, friendly and polite. Most importantly, they seem to run the restaurant like a personal space, welcoming friends, just as we do at Coco Shambhala.
Reservations are recommended for weekends as the place gets busy! Let us know if you'd like us to book you a Sakana experience during your stay at the Coco Shambhala villas.