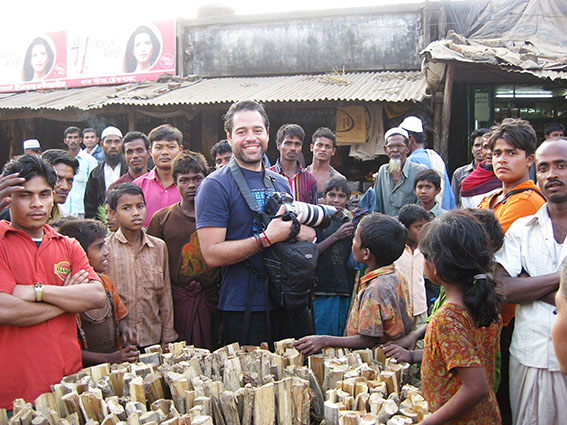 Photography with Francisco de Souza
1st February 2017
---
Photography tours are quite the trend these days. People like to return from a vacation, with great holiday photographs—memories that can be shared visually and also revisited. However, how often does one find a photography tour guide who is not only keenly proficient in guiding one's lens through the by-lanes of a busy market but also endears himself in your mind as a true, old friend?
Francisco de Souza is an international award winning photographer who took to the lens, in his pre-teen years, spent with the Shona tribe, in a small community, in the beautiful African landscape of Zimbabwe. He has always preferred to traverse through remote villages and travel off the beaten track and has keen respect for the local way of life; it is his easy going, friendly and calm persona which reflects in the colourful cultural experience Francisco offers to his clients.
Francisco has been living in and guiding tours in and around Goa for the past 2.5 years. He offers market tours, fishing village tours, old fort tours and even innovative scooter tours of Goa, besides 1-3 day long intensive photography workshops that blend tours with technical know-how, across India.
To engage in a tour with Francisco, one does not need to own a fancy camera, or even be technically interested in the art of photography. His tours are for everyone—a vibrant mix of taking great pictures, experiencing local life with a man who has endeared himself to the villagers and vendors and most importantly, engaging with the people of Goa—something, we as tourists, often don't find opportunity to do.
Walking with Francisco is like taking a step back from the city lives we lead—a step back into the stillness and the purity of a life which is immersed in nature and its silent, myriad moods.
Priced reasonably from only Rs 2500/- for a 3 hour tour of the busiest Goan local market or fort ruins and a fishing port or a Goan fishing village, our team at Coco Shambhala highly recommends booking one with Francisco, to see the real beauty of Goa—found in its warm and friendly people. You can also opt for the full day tours of North Goa or Goa on a Vespa scooter!
You can book a tour with Francisco through us or contact Francisco by email at info@francisco-desouza.com, by phone on +91 7741 959922 or through his website, www.francisco-desouza.com