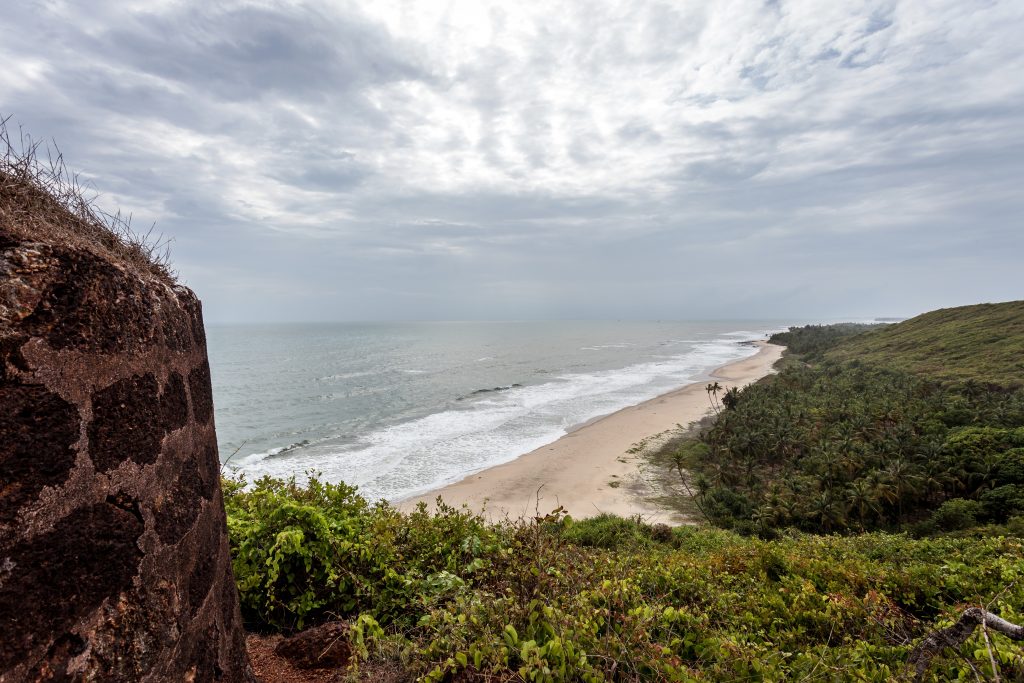 Nivati Forest & Beach
16th September 2017
---
In Sindhudurg, every little road that runs off from the main one, is a teasing temptation. One such road we turned into, took us to a charming little village called Nivati. Here, the walk to the beach takes barely two minutes but there is no set pathway. We walk, a little nervously, through the patios of people's huts. And they welcome us, to use the space, with bright smiles lighting up the pathways.
Nivati beach is really, an inlet/ alcove that allows a part of the sea to wash its shores and then keeps a part of the sea water, confined in a large pond. There are huge rocks sticking out on either side of the beach, and close to the walkway, built with large stones.
The boats, lined up neatly, and painted in bright shades of blue and yellow, provide quite a stunning backdrop to the view that greets us when we land up on the beach. Blue skies, turquoise sea waters and brown, mossy rocks paint the canvas as the soft brown sand rubs our feet and the boats give a hint of activity on an otherwise, deserted beach.
Look to your left and the green, cool waters of the pond beckon. One can wade across the water to sit in the shade of thick trees—the perfect spot for some wine and a good book! Atop the tiny hill, sit the ruins of Nivati fort, built by Chhatrapati Shivaji—the most revered ruler of the land, in the 18th century.
Sea eagles glide and rest, on the ruins of Nivati fort, almost like the rulers of the past, making a sense of history come alive here. And in the evenings, the fishermen return from the sea, with their wares, to Nivati beach. This is an absolutely stunning sight to witness and experiences—the locals buying a variety of fish, squids, crabs and lobsters from the fishermen—fresh from the sea!
We highly recommend a post lunch drive to Nivati beach, coupled with a walk along the ruins and the sea fish market on the beach!