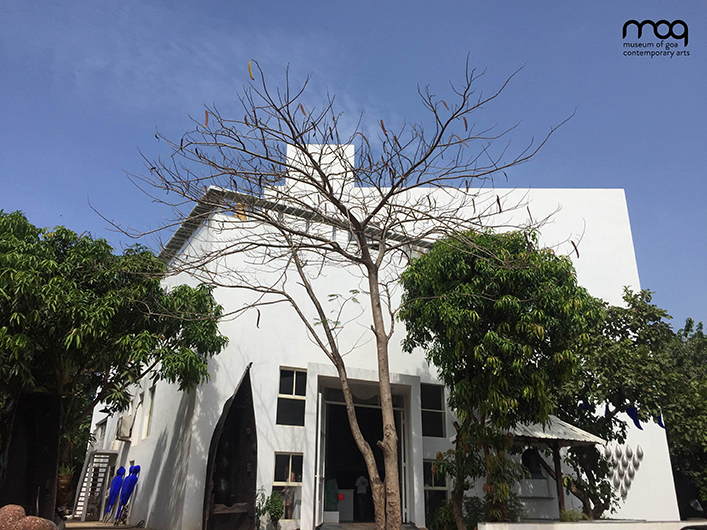 Museum of Goa
21st December 2016
---
A big, white modern building set in the middle of a forest, dotted by industrial estate plants—the Museum of Goa is an explosion of sensations, thoughts, emotions and sheer intrigue.
MOG was founded by an erstwhile doctor, Subodh Kerkar as an artist-driven initiative aimed to "take art to the masses". Subodh believes that art must be widely accessible and not for the privileged alone. MOG is a true testimony to Subodh's belief and is a classic example of art's contribution to social health and well-being.
Here, art resides in nature as it plays with social, historical and aesthetic layers. Three floors of art work that seeks to be inclusive; art that is representative, contemporary, modern—the Museum of Goa has appeal for everyone. From permanent installations and pieces on display, to rotational exhibitions, MOG has no specific criteria for the art it represents.
One finds beautiful paintings of the old Goan way of life alongside contemporary pieces in wood, pepper corns and metal representing the Portuguese way of life intermingling with Goan culture. There are some eclectic pieces too here, including the ocean as an artist and a tribute to the famous "pilots" of Goa that make one think about history, modernity and tradition, mixing together in the contemporary age.
Entry fee is priced reasonably at Rs 100/- (for Indians) , Rs 350/- (for foreigners) and Rs 50/- (for students). There is a lovely, organic café too here—the Om-made Café, home to shared spaces where artists and viewers can converse and meet over glassfuls of fresh juice and some delectable baked goodies.
Coco Shambhala recommends a visit to this beautiful enterprise, if you want to get away from the beach life and immerse yourself in some art!