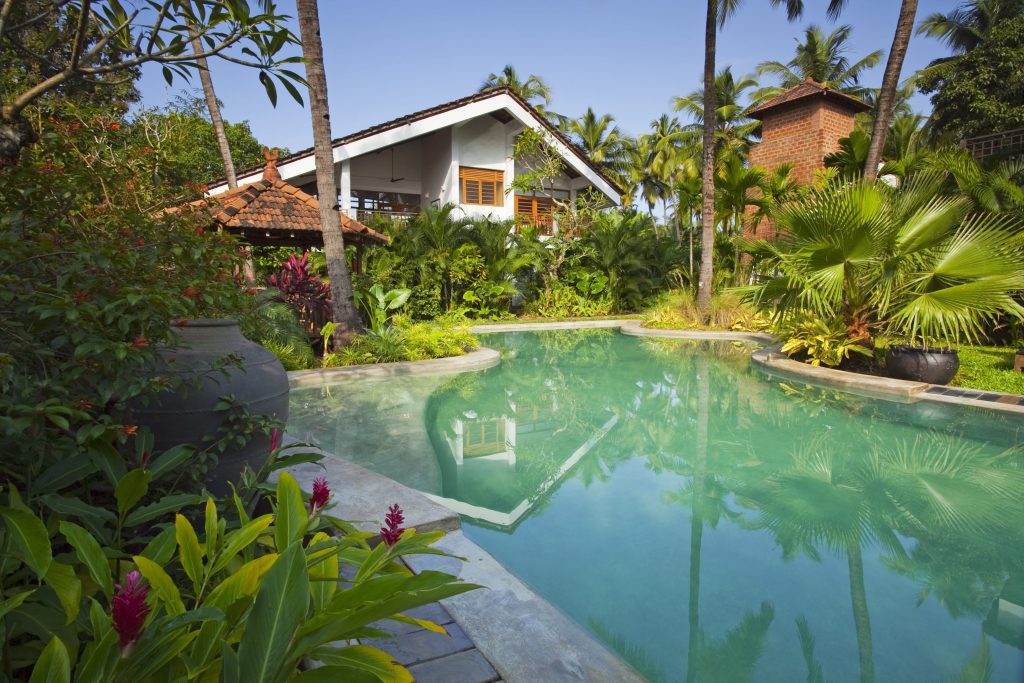 Jungle Style Gardens
1st June 2017
---
Geoffrey Bawa's "tropical modernism" has inspired the Coco Shambhala style of architecture. Right off the start, we envisioned creating a space for travellers, where indoor living meets the outdoors—keeping the essence of the tropics alive.
The jungle gardens of Coco Shambhala are an intrinsic part of this element of design in our villas. We found Made Wijaya's tropical garden designs just perfect for our gardens! Although, we certainly couldn't have afforded Made Wijaya, we did pore through one of his pioneering gardening books, "Tropical Garden Design" to seek inspiration and ideas.
A lot of hotels use well-manicured gardens to create beauty inside the property. We decided to keep the flora and fauna of Goa alive in ours! Using locally growing trees and plants, we invite a large number of local and migratory birds that can be seen from the plush comfort of the villa living pavilion, the quietude of the spa or the cool waters of the swimming pool.
A variety of red and green palm trees adorn the pathways of our barefoot luxury retreat, giving a peek into the bright blue skies above. Plants popularly known as elephant ears dot the edges of the swimming pool and remind one of a natural water source in a tropical forest. Frangipani flowers lend a fragrance to the whiffs of sea mist in the air. Huge white spider lilies peer out from the wild green hedges growing in well-trimmed clumps and tall golden bamboo bundles tower almost to the height of the living pavilions of our villas.
When you enter the world of Coco Shambhala, you will feel surrounded by the natural beauty of the tropics with the comforts of a luxury retreat fitted in.  Come and experience our world.